At Least 47 Killed As Moscow Market Collapses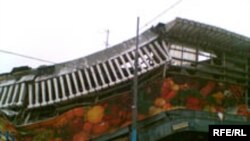 The collapsed roof of Moscow's Baumansky market today (RFE/RL) 23 February 2006 -- Latest figures suggest that at least 47 people were killed and 29 injured when the roof of a market in Moscow caved in.
Rescue teams are continuing to try to clear away rubble in the hope of finding survivors. Many people remain trapped in the wreckage.
Moscow Mayor Yuri Luzhkov said "with complete certainty that this was not a terrorist act."
Luzhkov said the cause was probably the heavy load of snow that the roof was carrying.
Most of the victims were believed to be from the former Soviet republics of Central Asia and the Caucasus. Russian media report some workers lived in the basement of the building.
(compiled from agency reports)