Putin told Arbour that Russia was committed to working together with international organizations on human-rights issues. But he reportedly cautioned her not to allow the UN to politicize rights issues.
Arbour has spent several days traveling through Russia's troubled North Caucasus region to examine the human-rights situation in the country.
She met with refugees in Ingushetia and visited Chechnya, where she expressed concern over accounts of abuse by Russian forces.
She also visited Beslan in North Ossetia, the site of the 2004 bloody school siege that left more than 330 people dead.
(ITAR-TASS, Interfax, AP)
The Chechnya Conflict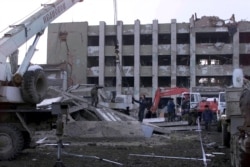 The aftermath of a December 2002 Chechen resistance attack on the main government building in Grozny (epa)


CHRONOLOGY
The
fighting in Chechnya
has raged, with short breaks, since 1994. It has brought misery, death, and destruction to the North Caucasus republic and to Russia as a whole. View an
annotated timeline
of the conflict.

ARCHIVE
RFE/RL's complete coverage of Russia's war-torn Republic of Chechnya.