UN Rights Official Visits Beslan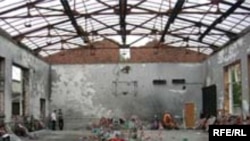 The ruins of School No. 1 in Beslan (file photo) (RFE/RL) 22 February 2006 -- United Nations' High Commissioner for Human Rights Louise Arbour today was in Beslan, in North Ossetia, the site of the bloody school siege in 2004.
More than 330 people, many of them children, died in the raid on the school in Beslan by Chechen-linked militants and the subsequent attack by security forces.
Arbour laid a wreath at the memorial to those who died in the siege.
Arbour is on a tour of Russia's troubled North Caucasus, which has already taken her to Ingushetia and Chechnya. Later today, she is meeting North Ossetian leaders.
In Chechnya on 21 February, Arbour said she was disturbed by accounts of torture and abductions there.
On 23 February, Arbour is expected to meet Russian leaders in Moscow who will raise what Moscow sees as "politicization" and "double standards" on human rights.
(Interfax)