PRAGUE, 20 February 2006 (RFE/RL) -- Arbour's visit to the troubled North Caucasus republics is part of a weeklong trip to Russia, where she is due to examine the human rights situation in the country.
Her talks with Russian President Vladimir Putin and Foreign Minister Sergei Lavrov, to be held in Moscow on 23 February, are likely to be uneasy.
In comments made on 17 February, Russian Foreign Ministry spokesman Mikhail Kamynin said Putin and Lavrov were expected to challenge Arbour over what Moscow commonly describes as the "politicization of human rights" and "double standards."
Russia has criticized some Western countries for refusing to extradite Chechen separatist leaders, whom it blames for allegedly encouraging terrorism. Moscow has also dismissed widespread criticism of its heavy-handed policy in Chechnya, saying the ongoing war only aims to save the region from "bandits and terrorists." Russian officials also argue that human rights violations are being committed on both sides.
Arbour today discussed the human rights situation in the North Caucasus with Ingush lawmakers and rights campaigners. She was scheduled to meet later with Ingush President Murat Zyazikov.
Usam Baisayev works with the Ingush branch of Memorial, Russia's main human rights nongovernmental organization. Baisayev, who met with the visiting UN high commissioner along with other rights activists, tells RFE/RL the interview lasted only one hour, just enough for participants to brief Arbour on the general human rights situation in the North Caucasus.
Meetings With Local Rights Representatives
"We had just enough time to rapidly review the main crimes that are being committed in Chechnya and in Ingushetia. She didn't even have time to ask us a single question. Given her function, we would have expected her to pester the Russian Foreign Ministry so that they gave her the opportunity to spend more time with victims [of human rights abuses] and representatives of civic organizations, rights campaigners, than with representatives of the authorities. It's her job to meet with those people," Baisayev said.
The UN high commissioner briefly visited the village of Gamurziyevo, where thousands of people displaced by the North Ossetian-Ingush war have been living in precarious conditions for the past 13 years.
Ingushetia says up to 18,000 civilians forcibly expelled from North Ossetia in the early 1990s still live on its territory. Authorities in Vladikavkaz and Moscow in turn put the number of Ingush internally displaced persons (IDPs) from North Ossetia's Prigorodny Raion at only 7,000.
Arbour was also expected to discuss the plight of the thousands of civilians displaced by the war in neighboring Chechnya who have sought refuge in Ingushetia at the start of the second Russian military campaign in 1999.
Miserable Camp Conditions
Estimates regarding the number of Chechen IDPs vary from between 13,000 and 30,000. Neither the regional nor the federal government has provided any comprehensive data.
Citing unhealthy sanitary conditions, Ingush authorities last year said they were considering closing nearly all of the temporary centers where IDPs from Chechnya live.
Rights campaigners, on the other hand, believe the official reason given for what they believe is an imminent closure is just an excuse. They say the authorities want to force all IDPs back to their home region in a bid to substantiate Kremlin claims that the situation in Chechnya has been normalized.
"What prompted the authorities to seek the closure of these camps? Simply, a decision by [Ingushetia's chief] disease control [expert] who said those places were unhygienic, that there were no toilets, no place to dump domestic waste, etc.," Baisayev said. "But instead of urgently helping people there put things in order, it was decided to expel them."
Baisayev says Memorial and other rights groups succeeded in delaying the expected deportation of Chechen IDPs, which civic campaigners believe was initially scheduled for early January.The authorities have now set a new deadline that will reportedly expire in March.
Arbour is due in Chechnya on 21 February for talks with pro-Moscow President Alu Alkhanov and acting Prime Minister Ramzan Kadyrov.
The UN commissioner will be in North Ossetia on 22 February, where she will visit Beslan's School Number One, the site of the September 2004 hostage crisis that claimed more than 300 lives.
Prior to returning to Moscow, she will hold talks with Dmitry Kozak, Putin's representative to the Southern Federal District. Her visit to Russia will conclude in St. Petersburg, where she will meet with representatives of civic organizations and regional authorities.
The Chechnya Conflict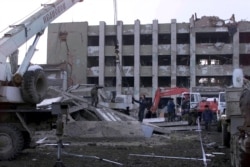 The aftermath of a December 2002 Chechen resistance attack on the main government building in Grozny (epa)


CHRONOLOGY
The
fighting in Chechnya
has raged, with short breaks, since 1994. It has brought misery, death, and destruction to the North Caucasus republic and to Russia as a whole. View an
annotated timeline
of the conflict.

ARCHIVE
RFE/RL's complete coverage of Russia's war-torn Republic of Chechnya.