Arbour travels to the regional capital Nazran for talks with Ingushetian President Murat Zyazikov. She will then visit the Gamurzievo camp where displaced persons from the conflict in neighboring Chechnya are being housed.
Human rights groups say Moscow has been forcibly sending refugees back to Chechnya in order to close down such camps.
Arbour arrived in Moscow on 19 February on a week-long trip to examine the human rights situation in the country.
During her stay, she will meet with Russian President Vladimir Putin, who, Russia's Foreign Ministry says, will raise what Moscow sees as the "politicization of human rights" and "double standards."
Russia often accuses Western countries of double standards for giving asylum to exiled Chechen leaders, instead of returning them to Russia to be prosecuted for terrorism.
(AP, AFP)
The Chechnya Conflict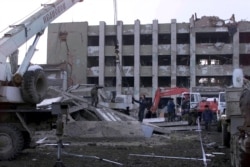 The aftermath of a December 2002 Chechen resistance attack on the main government building in Grozny (epa)


CHRONOLOGY
The
fighting in Chechnya
has raged, with short breaks, since 1994. It has brought misery, death, and destruction to the North Caucasus republic and to Russia as a whole. View an
annotated timeline
of the conflict.

ARCHIVE
RFE/RL's complete coverage of Russia's war-torn Republic of Chechnya.