Kazakh Parliament Official Confesses To Oppositionist's Killing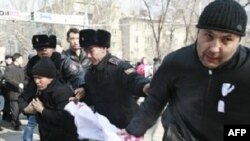 Opposition protestor at a 26 February demonstration in Almaty is arrested (file photo) (AFP) ASTANA, 27 February 2006 (RFE/RL) -- Kazakh Interior Minister Baurzhan Mukhamedjanov said today the murder of the opposition leader Altynbek Sarsenbaev was masterminded by the head of the Senate administration.
Mukhamedjanov told journalists that Erzhan Utembaev, who was arrested on 22 February, confessed that he ordered the killing of Sarsenbaev.
Utembaev said he had ordered the killing because of "long-standing personal enmity," Mukhamedjanov told reporters.
"After Sarsenbaev published an article giving a negative characterization of [Utembaev] in one of the national newspapers, their relations deteriorated rapidly," Mukhamedjanov said. "After the publication of that article, Erzhan Utembaev's career, in his own words, went downhill. Blaming that on Sarsenbaev, he nurtured the idea to take revenge on him for a long time."
The Interior Minister said the actual murder was carried out by a former ministry officer, Rustam Ibragimov. Five members of the security service (KNB) have been charged with kidnapping and killing Sarsenbaev.
Sarsenbaev, the co-chairman of the Naghyz Ak Zhol (True Bright Path) party, was found shot on 13 February. His bodyguard and a driver had also been shot.
The opposition disputes the official version of events. A leading member of Sarsenbaev's party, Toleken Zhukeyev, said on 27 February that Utembaev was too weak to have masterminded the killing. He insisted it was a "show execution" rather than a "simple murder."
Meanwhile dozens of protesters have picketed the Interior Affairs Department of the country's largest city, Almaty, demanding more transparency in the investigation.
RFE/RL Central Asia Report

SUBSCRIBE For regular news and analysis on all five Central Asian countries by e-mail,
subscribe to "RFE/RL Central Asia Report."