Kosova: Top General Named Prime Minister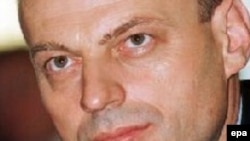 Agim Ceku (file photo) (epa) Kosova seems poised to acquire a new prime minister and speaker of the parliament in what some media have described as a political upheaval, albeit one that was long overdue. Perhaps the most interesting aspect of the changes is the nomination of General Agim Ceku as prime minister in a move that takes an already very influential figure out of the wings and onto center stage.
Bajram Kosumi of the Alliance for the Future of Kosova (AAK) announced his resignation from the post of prime minister in Prishtina (Pristina) on March 1, saying that this was the only "correct and ethical action" for him to take in order to preserve the governing coalition's legislative majority and the confidence of the international community.
In what was seen as a parallel move aimed at revitalizing the governing coalition, the larger Democratic League of Kosova (LDK) of the late President Ibrahim Rugova announced its decision to sack Nexhat Daci as speaker of the parliament and replace him with Kole Berisha, who has been the de facto head of the LDK since Rugova's death in January.
Kosumi Tainted By Scandal
The two changes have some elements in common. The coalition has been weakened by a prolonged dispute in 2005 over control of the Justice Ministry and the Interior Ministry that reflected badly on the leaderships of both parties. Both Kosumi and Daci have been tainted by scandal and accused of arrogance, and not just by the opposition.
Kosumi in particular came under fire for accepting favors from private businessmen fairly early in the one year since he replaced Ramush Haradinaj as head of the government after Haradinaj, who founded the AAK, voluntarily went to The Hague to face war crimes charges. Kosumi eventually lost credibility within his own party and has also been criticized by some members of the international community, including Soren Jessen-Petersen, who heads the UN civilian administration in Kosova (UNMIK).
Effect On Status Talks
Some commentators in Kosova have suggested that a further reason for the ouster of the two men is a general dissatisfaction with the progress of talks on Kosova's final status, which began recently in Vienna and are slated to resume on March 17. This view is not universally held, however, and Kosumi cited the progress made towards independence so far as one of his accomplishments when he delivered his resignation speech.
In any event, several Kosovar political leaders and Martti Ahtisaari, who is the UN's chief negotiator for the status talks, made it clear that the changes will have no adverse effect on the negotiations. Ahtisaari said that the latest political developments in Prishtina are a matter for the Kosovar leadership itself and that he expects the talks to move ahead.
President Fatmir Sejdiu, who recently succeeded Rugova and also belongs to the LDK, called the changes "part of a normal [political] process" and pledged to work together with everyone concerned. Hashim Thaci, who leads the opposition Democratic Party of Kosova (PDK), said that Kosova's future does not depend on individuals but on institutions.
Military Background
Perhaps the most interesting aspect of the changes is Ceku's emergence from the sidelines of political life on to center stage. Like Haradinaj and Thaci, he was a commander of the former Kosova Liberation Army (UCK), but unlike them he still wears a uniform, this time as head of the civilian Kosova Protection Corps (TMK). That body consists mainly of ex-UCK guerrillas and is widely seen as the nucleus of the army of a future independent Kosova. Ceku has nonetheless said repeatedly that he does not rule out going into politics and has sometimes spoken out on important issues of the day.
Unlike many in the former UCK leadership, Ceku, who is 45, did not begin his military career as a guerrilla. He was an officer in the Yugoslav People's Army (JNA) when the conflict began in Croatia in 1991 and joined the Croatian army. Many Serbs have accused him of war crimes against Serbian civilians there, and court in Nis convicted him in absentia in 2002 of "genocide" against the Serbian minority in Kosova.
It is thus not surprising that Serbian reaction to the news of Ceku's nomination as prime minister was negative. Goran Bogdanovic, who is a leader of the Serbian List for Kosovo and Metohija party, told RFE/RL's South Slavic and Albanian Languages Service that a man with Ceku's particular military past cannot be expected to serve as a representative of all citizens. Bogdanovic argued that Ceku's appointment "is not good, above all for Kosovo, for all citizens of Kosovo, and especially for the Serbs. I can't imagine...who of the Serbian [leaders] would take part in a government headed by Ceku."
In Belgrade, Sanda Raskovic-Ivic, who heads the Serbian government's coordinating team for the status talks, said that "the proposal that Ceku should take over such a big and important political role is a sign that the ethnic Albanian side is losing their composure and opting for radicalization."

SUBSCRIBE
For a regular review of politics, media, and RFE/RL broadcasts in the western Balkans,
subscribe to "RFE/RL Balkan Report."