Addressing the OSCE's Permanent Council in Vienna on March 2, U.S. Charge d'Affaires Kyle Scott expressed concern that recent incidents in South Ossetia could have triggered new bloodshed there, and he called on "both sides to exercise restraint and take care to avoid any further incidents."
Scott listed several recent Russian moves that he said give cause for concern, including statements that Russia will take unspecified measures to protect its citizens in South Ossetia. He said Russia's granting of citizenship to residents of the unrecognized republic "calls into question the Russian Federation's stated support for Georgia's territorial integrity and [its] commitment to support a peaceful resolution of the South Ossetia conflict based on that principle."
Scott likewise expressed "dismay" at Russia's "perplexing decision" last week to pull out of a session of the Joint Control Commission (JCC) tasked with monitoring the situation in the South Ossetia conflict zone that was scheduled to take place in Vienna on February 20-21. Russia instead summoned South Ossetian and North Ossetian leaders to Moscow for talks in which Georgia did not participate.
Scott said the cancellation of the Vienna talks was "a significant setback," and he called on "all sides to agree now to a meeting of the JCC as soon as practical and in a mutually agreeable location." He added that "there is much work to do, including reconciling the relatively few differences between the peace plan proposed by Georgia, which the OSCE Ministerial [meeting in Ljubljana in December] recognized as a basis for a peaceful settlement of the conflict, and the plan proposed a few days later by South Ossetia."
Noting that "the current situation calls for confidence-building steps by all parties," Scott praised "the unilateral steps recently announced by the Georgian leadership to begin demilitarization and improve security in South Ossetia." U.S. Ambassador to the OSCE Julie Finlay called for an immediate start to demilitarization in her address to the Permanent Council three weeks ago.
Scott urged the South Ossetian leadership to accept Georgia's repeated invitations for talks on resolving the conflict, and specifically on a Georgian draft law on compensation for those residents of South Ossetia who suffered during the war.
Scott further commended Georgia for "its continuing efforts to make the difficult decisions needed to secure a lasting peace," and he called on Russia and South Ossetia "to reciprocate with confidence-building measures of their own.
South Ossetia Cease-Fire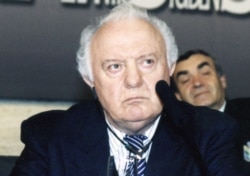 Former Georgian President Eduard Shevardnadze (RFE/RL)

'NO OTHER WAY OUT': Georgia's parliament on February 15 called upon the government to review the 1992 agreement that put an end to the war with South Ossetia and secure the withdrawal of all Russian peacekeepers stationed in the separatist republic. Officials in Tbilisi have long accused the Russian soldiers of siding with the separatist forces and posing a threat to Georgia's national security. Russia has protested the Georgian vote, arguing that Tbilisi has no right unilaterally to amend the 1992 peace agreement. Georgia, in turn, says it has the right to do so.
RFE/RL's Georgian Service correspondent Nona Mchedlishvili asked former President EDUARD SHEVARDNADZE, who signed the agreement with his then Russian counterpart, Boris Yeltsin, to comment on the dispute....(more)
See also:
Tbilisi Seeks EU Support As Tensions Rise In South Ossetia