Child Labor, Human Trafficking Cited In U.S. Report On Afghanistan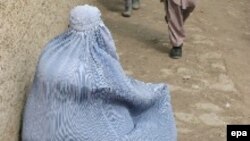 Discrimination against women is a problem in Afghanistan, according to the report. Here, a burqa-clad woman begs on a Kabul street today, International Women's Day 2006 (epa) PRAGUE, March 8, 2006 (RFE/RL) -- The annual human rights report issued today by the U.S. State Department says Afghanistan's human rights record remained poor during 2005 due to weak central government institutions and an intensified insurgency.
Washington says that although Kabul struggled to expand its authority into provincial centers, a few areas remain under the control of abusive regional militia commanders.
It also notes cases in which both security forces and factional militias committed extrajudicial killings and torture.
It says other human rights problems in Afghanistan include societal discrimination against women and minorities, human trafficking, child labor, abuse of worker rights, poor prison conditions, and restrictions on freedom of religion and of the press.
But the report also says that extensive reporting of human rights abuses led to increased action against abusers.
The report also highlights many human rights problems in Pakistan -- including unauthorized killings by authorities as well as torture and rape.
For an overview of the State Department report, click here.
RFE/RL Afghanistan Report

SUBSCRIBE For regular news and analysis on Afghanistan by e-mail,
subscribe to "RFE/RL Afghanistan Report."