Russia's Supreme Court Rejects Appeal Over Baikal Pipeline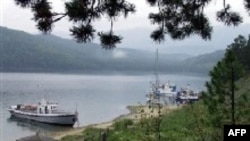 Russia's Lake Baikal (file photo) (AFP) March 9, 2006 -- Russia's Supreme Court today rejected an appeal brought by environmental groups over the routing of a key Siberian pipeline.
Environmental groups say the pipeline will endanger the world's largest freshwater lake, Lake Baikal.
The 4,100-kilometer pipeline is to run to Russia's Pacific Coast, enabling Russia to increase oil exports to China, Japan, and South Korea.
The state-controlled Transneft company is building the $11 billion Kremlin-backed project.
Environmentalists had also argued that members of the regulatory agency that approved the routing had been pressured to ensure a favorable vote. Transneft denies any attempt to pressure the panel.
(ITAR-TASS, AP)


UPDATED CONSTANTLY: Visit RFE/RL's Russian-language website, featuring news, analysis, features, streaming audio, and more, in Russian, from RFE/RL's Russian Service.
ARCHIVE
RFE/RL's English-language
coverage of Russia
.