Minister of Intelligence and Security Hojatoleslam Gholam-Hussein Mohseni-Ejei is quoted by the official news agency IRNA as saying that those arrested will soon be handed over to judiciary officials.
He added that the detained persons were in contact with the "enemies" of the Islamic republic outside the country.
Ahvaz, the capital of Khuzestan Province, where the majority of Iran's ethnic-Arab population lives, has been hit by a string of bomb attacks in recent months.
On February 27 two small bombs exploded in the cities of Dezful and Abadan, wounding four people.
Iranian officials have accused British forces in neighboring Iraq of being behind the unrest. Britain denies the charges.
(IRNA)
Iran's Arab Minority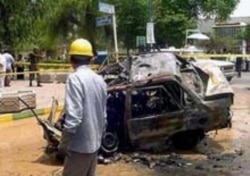 The aftermath of a car bombing in Ahvaz on June 12, 2005 (epa)
DISCONTENT IN THE SOUTH: There are approximately 2.07 million ethnic Arabs in Iran (3 percent of the total population of 69 million), most of them living in the region around the southern city of Ahvaz. The region has been the scene of numerous terrorist attacks and demonstrations over the years. Arab groups cite historical grievances, and they bemoan inadequate attention to their culture and language by state media....(more)
RELATED ARTICLES
Handling Of Ahvaz Unrest Could End With Televised Confessions
Bombing Accusations Highlight 'Differences And Disagreements'
Bombings In Southwest Blamed On Usual Suspect