Aliyev Urges Japan To Invest In Azerbaijan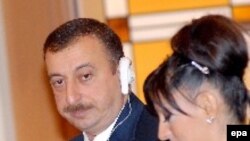 Azerabaijani President Aliyev pictured with his wife in Japan on March 8 (epa) March 9, 2006 -- Azerbaijan's President Ilham Aliyev has urged Japanese companies to invest in his country's oil infrastructure, saying he hopes Azerbaijan will soon become a major oil exporter.
Aliyev, who is in Tokyo on a four-day trip, also said he had "high expectations" for increased Japanese investment.
Japanese Foreign Minister Taro Aso said Tokyo was interested in maintaining strong bilateral ties because of Azerbaijan's importance -- geopolitically and as an oil-producing nation.
Aliyev is due to meet Prime Minister Junichiro Koizumi on March 10.
(AP)


For a complete archive of RFE/RL's coverage of energy issues in the Caspian Sea region and Russia, click here.
HOW MUCH OIL? The U.S. Energy Information Administration has estimated that the Caspian could hold between 17 billion and 33 billion barrels of proven oil. ("Proven reserves" are defined by energy experts to be 90 percent probable.) Other experts estimate the Caspian could hold "possible reserves" of up to 233 billion barrels of oil. ("Possible reserves" are considered to be 50 percent probable.) By comparison, Saudi Arabia has 261 billion barrels of oil and the United States 23 billion...(more)
See also:
Economic Forecast For 2006 Sees Growth, But Danger In Continued High Oil Prices
How Vast Are The Riches In The Caspian?
Experts Envision A Future Beyond Oil