Georgian MP Accuses Russia Of Funding Protests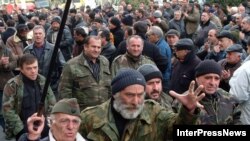 Georgian traders protested in Tbilisi today against a government decision to make cash registers mandatory at all marketplaces (InterPressNews) March 10, 2006 -- A leading member of Georgian President Mikhail Saakashvili's ruling party today accused Russia of funding recent protests over the mandatory use of cash registers in marketplaces.
Davit Kirkitadze, the deputy leader of the National Movement group in Georgian parliament, said there were troubling similarities between this week's market traders' protests in Tbilisi and an anti-Saakashvili rally in Moscow.
"I would advise our public to look at how those rallies have been reported in the Russian press," he said. "Demands made at rallies held in Moscow and Tbilisi yesterday and today are identical. I firmly believe all these rallies were masterminded by the same secret services. This explains why the demands and dates coincided."
Some 3,000 traders rallied today in Tbilisi for the second consecutive day to protest a government decision to make cash registers mandatory at all marketplaces.
In Moscow, members of a pro-Kremlin youth group today held a protest rally in front of the Georgian Embassy. Chanting "Misha, Go Home!", participants released a balloon representing Saakashvili. They accused the Georgian president of conducting a pro-American policy.
(Imedi TV, Prime News. Novosti-Gruziya)


SUBSCRIBE For weekly news and in-depth analysis on Armenia, Azerbaijan, Georgia, and Russia's North Caucasus by e-mail,
subscribe to "RFE/RL Caucasus Report."