U.S. Soldier Faces Trial For Abu Ghurayb Abuse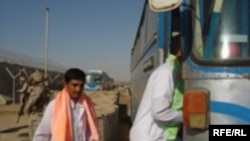 Prisoners being released from Abu Ghurayb in September 2005 (RFE/RL) March 13, 2006 -- The court martial of a U.S. Army dog handler charged with abusing detainees at the Abu Ghurayb prison in Iraq is due to begin today.
The military trial of Sergeant Michael Smith is taking place at Fort Meade, in the eastern U.S. state of Maryland.
Smith is accused of using his unmuzzled dog to harass, threaten, and assault detainees at Abu Ghurayb in late 2003 and early 2004. This is the same period of time in which U.S. personnel subjected Abu Ghurayb inmates to sexual humiliation and other abuses, some of which were photographed and eventually widely seen around the world.
Smith faces more than 29 years in prison if convicted of all 14 counts against him.
(AP, AFP)