Azerbaijan's Deputy Health Minister Abbas Velibeyov said today the three died earlier this month.
The number of wild birds found infected with H5N1 bird flu in Germany is approaching 200. But six ducklings found dead at a farm in Bavaria tested negative for the H5N1 virus.
The H5N1 virus is the deadly strain of avian influenza which has led to the deaths of nearly 100 people since 2003, mostly in Asia. Millions of birds have been culled.
Meanwhile, UN spokesperson Adrian Edwards said bird flu has been found in five birds in Afghanistan. He said in Kabul that it's not known whether the strain is the deadly H5N1 or not.
"This morning the government and the Food and Agriculture Organization of the United Nations announced that they received back tests from laboratories in Italy last night confirming that the H5 virus had been found in a number of samples from here in Afghanistan."
In Myanmar, the deadly H5N1 strain of bird flu has been detected for the first time among birds. But officials said there is no evidence of any bird flu infections among humans in the country.
(compiled from agency reports)

Interview With UN FAO's Erwin Northoff
Interview With UN FAO's Erwin Northoff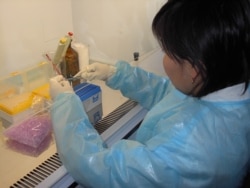 An expert at the National Virology Laboratory of the Kyrgyz Health Ministry (courtesy photo)
GETTING READY: Many have expressed concern about the ability of Central Asian countries to come to grips with a possible bird-flu outbreak. RFE/RL Turkmen Service correspondent Muhammad Tahir spoke with Erwin Northoff, news coordinator for the UN's Food and Agriculture Organization (FAO), about the issue. ....(more)