Russia Defends Decision To Supply India With Uranium Fuel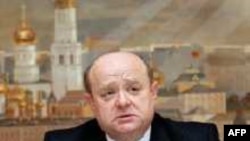 Prime Minister Mikhail Fradkov says the sale of uranium fuel doesn't violate interational obligations (file photo) (AFP) March 16, 2006 -- Russian Prime Minister Mikhail Fradkov today defended a decision to supply uranium fuel to India, saying it did not violate any international commitments.
Fradkov reportedly made those comments at a business conference in New Delhi, where he is on a two-day official visit.
The United States has expressed reservations about the deal, saying that India is not a signatory of the Nuclear Nonproliferation Treaty and that not all its atomic facilities were open to international inspection.
Under the agreement, which New Delhi revealed on March 14, Russia is to supply uranium to India's U.S.-built nuclear facility of Tarapur.
Fradkov, who is due to hold nuclear talks with his Indian counterpart Manmohan Singh, today said the deal was in the interest "of both countries."
(ITAR-TASS, RIA Novosti, Reuters)