Niyazov made the remarks during a March 16 cabinet meeting that was broadcast across Turkmenistan by state-run television.
"Guys, don't allow any wrong doings in your work and departments," Niyazov said. "Remove foolish people, and search for intelligent people [to replace the foolish ones]. If we don't do this, we will face misfortune sooner or later. If a foolish person comes [into authority], they could shake the foundations of our stable government."
Niyazov also praised China during the cabinet meeting, saying the country is "great" and "developed." He said Turkmenistan can learn from China's examples.
Niyazov is scheduled to lead a delegation of Turkmen officials to China on April 2.
(RFE/RL's Turkmen Service, Turkmen TV)
Turkmenistan In The Middle
Turkmenistan In The Middle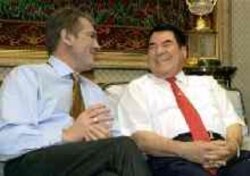 Turkmen President Saparmurat Niyazov (right) meeting with Ukrainian President Viktor Yushchenko in Ashgabat in March 2005

PLAYING BOTH SIDES: The Russian-Ukrainian gas dispute is testing Turkmenistan's self-declared policy of neutrality. Along with Russia, Turkmenistan is one of Ukraine's two biggest gas suppliers. Throughout the crisis, Ukraine suggested it could turn to Turkmenistan to make up any losses of Russian gas supplies. That puts Turkmenistan in a difficult position as it seeks to balance its relations with two capitals: Moscow and Kyiv...(more)
RELATED ARTICLES
Ukraine Signs Gas Deal With Turkmenistan
Kyiv Secures Turkmen Gas Supplies For 2006
Ukraine, Russia Spar Over Turkmen Gas
ARCHIVE
An archive of all of RFE/RL's coverage of Turkmenistan.