Turkmen President Urges Youth To Read 'Rukhnama'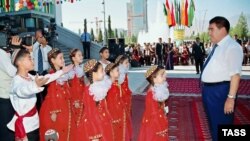 President Niyazov (right) with children at the opening of an exhibition center in Ashgabat in 2005 (ITAR-TASS) March 20, 2006 -- Turkmenistan's President Saparmurat Niyazov says Turkmen youth should read his book "Rukhnama" ("Spirituality") three times if they want to go straight to paradise.
Doing so, he says, will allow the reader to "become intelligent and grasp the nature and laws of things and the worth of mankind."
Niyazov spoke last night at a ceremony marking the holidays of Norouz and Women's Day.
Questions remain about whether Niyazov actually wrote the two-volume "Rukhnama" himself. In Turkmenistan, it's advertised as a second Koran and has been translated into 30 languages.
(ITAR-TASS)