Lukashenka spoke after election officials declared him the winner of of the March 19 presidential election. He won a new five-year term.
"Despite the pressure and orders from outside, they couldn't break us," Lukashenka said.
"Our people made their choice independently and [they] convincingly demonstrated who we, the Belarusians, are and who is the master of the house," Lukashenka told reporters earlier in the day. "This is a bright and undisputed victory of the power of the spirit, of the national dignity, and of the self-respect of the Belarusian people."
But the united opposition candidate, Alyaksandr Milinkevich, says there were no elections, only what he called "an unconstitutional seizure of power."
Milinkevich is urging opposition supporters to return to Minsk's central October Square this evening, after more than 10,000 supporters rallied there on March 19. He said that "the only way to talk to the authorities is from the streets."
Election officials say Lukashenka received 83 percent of the vote, with Milinkevich garnering 6 percent.
(compiled from agency reports)
Ratcheting Up The Rhetoric
Ratcheting Up The Rhetoric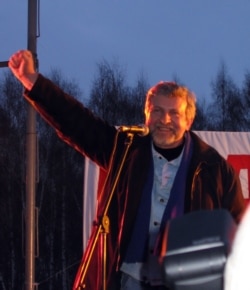 Alyaksandr Milinkevich attending an opposition rock concert on March18 in Minsk, where he first issued a call for protests (RFE/RL)


TOWARD A SHOWDOWN?: The main Belarusian opposition presidential candidate, Alyaksandr Milinkevich, and his campaign manager, Syarhey Kalyakin, spoke on March 19 at a news conference in Minsk. RFE/RL's Belarus Service provided excerpts from Milinkevich's remarks.
Milinkevich: I believe this civil confrontation can be resolved by repeating elections, in which representatives of all candidates will be represented in election commissions.
Milinkevich: This will not be a true result. It will be a result of falsifications that have been continuing for a long time. [The results] will be recognized neither by us nor the majority of the Belarusian population. They will not be recognized by democratic countries, it has already become obvious.
Milinkevich: I will be appealing to the good senses of the authorities. This conflict should not be escalated. It should not be fomented. A resolution should be found. Let's sit down to the negotiating table.
Milinkevich: I am absolutely confident that democratic countries will not recognize this election as legitimate. I very much hope that there will be quite a few serious politicians in Russia who will do the same.
Milinkevich: Those people who will overcome fear will come out in the streets. There was and still is fear being infused today by warnings of alleged terrorism, which has never been heard of in Belarus. So let's see how many people will come out. I will be grateful to everyone who comes out and says peacefully that we want to live like humans and not on our knees, in humiliation.


Click on the image to view a dedicated page with news, analysis, and background information about the Belarusian presidential ballot.


Click on the image to view RFE/RL's coverage of the election campaign in Belarusian and to listen to RFE/RL's Belarusian Service.