PRAGUE, March 20, 2006 (RFE/RL) -- Vladimir Putin's trip to China can be seen as a diplomatic move parallel to U.S. President George W. Bush's visit to India earlier in March.
Putin will be seeking to offset the new amicability between New Delhi and Washington with a similar consolidation with Beijing, particularly since the Russian leader's popularity with the West is waning as his own democratic credentials come into question.
"The goal is to expand [the figure] even further to $60 billion, which would turn China into Russia's premier trading partner."
Reaction To Bush In India?
Joseph Chung, the chairman of the China Research Institute of the City University of Hong Kong, says that Putin's trip is part of "a complex set of international interactions" taking place.
Gone are the days of the Cold War, with its clear East-West bipolar order, Chung says. He adds that, in the looser environment that has followed the collapse of the Soviet Union, the world's major powers -- especially in the Asia-Pacific region -- want to keep their options open in securing strategic advantages over potential competitors.
"China wants to improve relations with Russia, and vice versa, they both see this as an attempt to contain American unilateralism, to contain American predominance in international affairs, and to facilitate the gradual emergence of multipolarity," he says.
Chung says the Bush-India trip was a similar piece in the new geopolitical jigsaw puzzle.
"India and the United States are also interested in improving their relations; they have China in mind, they certainly want to ensure that China's rise will not be a threat to either the United States or India, and therefore they see strong mutual interest in improving the bilateral relationship," he says.
The Indians basked in the attentions given by Bush, who offered them an unprecedented civilian nuclear-power deal under which New Delhi would enjoy advanced U.S. technical support on the condition that they place their civilian nuclear facilities under international safeguards.
Moscow Courting India, Too
But Russia is not, consequently, backing away from its old friendship with India. Within days of the American offer, New Delhi announced that Moscow had agreed to supply uranium fuel for two nuclear reactors. Both the American and Russian offers skirt the fact that India is not a signatory to the nuclear Nonproliferation Treaty.
Returning to Putin's trip, the visit will also have important trade dimensions. The deputy director of the Carnegie Moscow Center, Dmitry Trenin, notes the steady development of Sino-Russian economic ties.
"During the 1990s, Russian-Chinese trade hovered around $5 billion to $6 billion; then there was a breakthrough achieved in the early 2000s, to $20 billion," Trenin says. "Now the goal is to expand [the figure] even further to $60 billion, which would turn China into Russia's premier trading partner."
Trenin says Iran is certain to feature in talks Putin will have with Chinese leaders. Russia and China share broadly similar views on Iran, which is now before the UN Security Council because of its controversial nuclear program.
In contrast to Western powers, the Russians and Chinese oppose sanctions against Tehran, and Putin's presence in Beijing will provide an opportunity to coordinate further on the issue.
The U.S. In Central Asia A Concern
Central Asia will likely also figure in bilateral talks. Both Russia and China are concerned by the U.S. military presence in Central Asia, which has grown in the course of the U.S.-led campaign in Afghanistan.
The two heavyweights cooperated last year in a regional security forum, the Shanghai Cooperation Organization (SCO), to successfully pressure Uzbekistan to close a U.S. military base in southern Uzbekistan.
The six-member SCO (Russia, China, Kazakhstan, Kyrgyzstan, Uzbekistan, and Tajikistan) is to hold a summit in Beijing in June, and Putin and his Chinese hosts are expected to discuss now how to further increase the influence of the SCO internationally.
Internet In China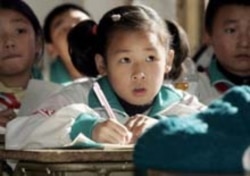 China seems to be the most successful pioneer in controlling its citizens' access to the Internet. A recent case shows that it has the help of some Western companies in doing so.... (more)
See also:
China: Acting To Keep Out 'Harmful Information'