Ahmadinejad said he hopes Iranian-Belarusian ties will be expanded in the future and said he is looking forward to Lukashenka visiting Iran.
(IRNA, dpa)
RFE/RL In Minsk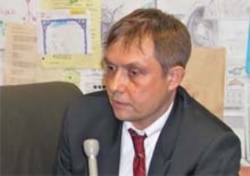 RFE/RL Belarus Service Director Alexander Lukashuk (RFE/RL)

VOTING UNDER WAY: RFE/RL's Belarus Service Director ALEXANDER LUKASHUK is in Minsk today (March 19) covering the vote. He spoke by phone with RFE/RL correspondent Valentinas Mite.
RFE/RL: How is the vote is going?
Lukashuk: The first thing which I learned today is that one-third of voters had already voted [before March 19] during the five days from Monday to Saturday. In the presidential elections in 2001, the number was only 14 percent of voters.
RE/RL: What is the significance of the early voting?
Lukashuk: [The significance is] that people are coming to the polling stations and just casting ballots. Of course, during this [stage of the] vote there are no observers and nobody is checking the polling boxes. And one-third of the population has voted this way.
RFE/RL: What do the exit polls say and which groups are conducting them?
Lukashuk: At 10 a.m., the first results of exit polls were announced and the results showed that 82 percent of voters had chosen Lukashenka. [Two organizations are allowed] to conduct exit polls in the country: the Union of Belarusian Republican Youth and an organization called EKOOM. These organizations are quasi-state-owned. These exit polls mean nothing. The figures are only for propaganda purposes."
RFE/RL: Have you heard reports that further arrests of opposition figures are under way, following the arrests in the run-up to the polls of many others?
Lukashuk: Yes, the arrests of activists supporting [opposition] candidates are continuing. [More arrests happened today] in Brest, Mohilev, and Minsk.


Click on the image to view a dedicated page with news, analysis, and background information about the Belarusian presidential ballot.
MEET THE CANDIDATES: Read brief biographies of the four candidates in the March 19 election.


Click on the image to view RFE/RL's coverage of the election campaign in Belarusian and to listen to RFE/RL's Belarusian Service.