Irakli Alasania, whom Saakashvili made his personal envoy to Georgian-Abkhaz peace negotiations on March 20, told a news briefing that his appointment testifies to Tbilisi''s commitment to peacefully settling its sovereignty dispute with Sukhum.
"We are considering holding direct talks with the Abkhaz side in the near future," Alasania said. "These talks will examine issues that are important to both sides, such as security measures, the return of internally displaced persons, ways to restore and strengthen confidence, as well as issues pertaining to economic cooperation."
Alasania also said work is under way on a "road map" to settle the Abkhaz separatist conflict.
The Georgian parliament has given the government until May 1 to present a peace plan similar to the one that already exists for South Ossetia.
Both Abkhazia and South Ossetia forcibly won de facto independence from Georgia in the early 1990s. Saakashvili has vowed to restore Georgia's territorial integrity within a few years.
(Imedi TV, Civil Georgia)
South Ossetia Cease-Fire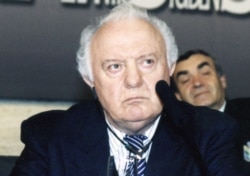 Former Georgian President Eduard Shevardnadze (RFE/RL)

'NO OTHER WAY OUT': Georgia's parliament on February 15 called upon the government to review the 1992 agreement that put an end to the war with South Ossetia and secure the withdrawal of all Russian peacekeepers stationed in the separatist republic. Officials in Tbilisi have long accused the Russian soldiers of siding with the separatist forces and posing a threat to Georgia's national security. Russia has protested the Georgian vote, arguing that Tbilisi has no right unilaterally to amend the 1992 peace agreement. Georgia, in turn, says it has the right to do so.
RFE/RL's Georgian Service correspondent Nona Mchedlishvili asked former President EDUARD SHEVARDNADZE, who signed the agreement with his then Russian counterpart, Boris Yeltsin, to comment on the dispute....(more)
See also:
Tbilisi Seeks EU Support As Tensions Rise In South Ossetia