Abkhazia Blames Georgia For Deadly Attack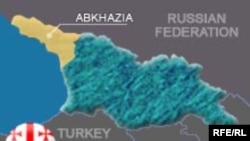 (RFE/RL) March 9, 2006 -- The foreign minister of Georgia's separatist republic of Abkhazia today renewed charges that Tbilisi is behind a recent deadly attack in the southern Gali district.
Unidentified attackers on March 8 opened fire on a minibus near the village of Saberio, killing three adults and a 6-year-old girl. Among the victims are two ethnic Abkhaz and two ethnic Georgians.
Sergei Shamba said the incident was aimed at "discrediting the authorities of Abkhazia and the Russian peacekeepers" stationed in the region.
Georgian officials have rejected the Abkhaz accusations and said Gali-based criminals were probably behind the shooting.
The commander of the Russian peacekeeping force, Sergei Chaban, said on March 9 that he would discuss the incident with representatives of Georgia, Abkhazia, and the United Nations.
Abkhazia won de facto independence from Georgia in 1993 after a 13-month war that killed thousands and turned an estimated 250,000 civilians into internally displaced persons.
(ITAR-TASS, Novosti-Gruziya)

SUBSCRIBE For weekly news and in-depth analysis on Armenia, Azerbaijan, Georgia, and Russia's North Caucasus by e-mail,
subscribe to "RFE/RL Caucasus Report."