PRAGUE, March 22, 2006 (RFE/RL) -- Khommadov spoke first about his physical condition, but he indicated that he was under the surveillance of security officials at his home in Turkmenistan.
"Now I feel well," he says. "Very well. But in the village during all these days the [National Security Ministry or MNB] officers or some other security force employees are keeping watch over us."
Khommadov and his colleague, RFE/RL correspondent Jumadurdy Ovezov, were picked up by police on March 7. Khommadov explained what happened to them after they were taken from their homes.
"On March 7 at 8 a.m. we were taken, probably by a police officer, to the police station," he says. "We were waiting for two hours at the police station. Then we were taken to the Hakimlik (the Mary provincial governor's office). There were a lot of [village elders] there who talked to us. They were shouting, calling us traitors. They were very aggressive toward us. They promised to evict us from the village and not let us live there. Then [the village elders] made accusations against us, using harsh language and sentenced us to 15 days of community service. [My colleague] did not say anything. However, he was also arrested. They put pressure on me, saying that I trained Juma to work for [RFE/RL]. At the meeting, the officers of the security forces continued to put pressure on me -- interrupting my comments and trying to stop me from speaking. They took us to that meeting by force."
The two were put in jail. Khommadov described the conditions inside his cell.
"We were kept in the [southern] town of Mary....," he continues. "There are no conveniences there, only a metal bed without any mattress or sheets. There are cockroaches, lice. You have to stay together with people suffering from tuberculosis and drug abusers. There was no food except one piece of bread and at noon some kind of cereal we ate without any spoon."
'We Signed Some Papers'
Those questioning Khommadov and Ovezov -- who are both 54 years old -- threatened to charge them with being traitors and fomenting interreligious hatred. Eventually the two correspondents had to sign confessions to obtain their release.
"When they questioned us both in the police station, and the governor's office, they recorded the whole conversation on video," he says. "They forced us to sign a paper where we had to confess and ask for an early release. That is how I got released."
'Working With Traitors'
But signing the papers was not all they had to do.
"We signed some papers that said one thing -- but orally they warned us not to cooperate with [RFE/RL]," he says. "They said the radio was working with bad people who are traitors and they named all the people who cooperated with Radio Liberty, like [former Foreign Minister Boris Shikhmuradov, who was convicted in 2003 of plotting to kill Turkmen President Saparmurat Niyazov and has since been jailed, and] drug addicts and people who were traitors during World War II. They said it was not good to [work for RFE/RL]."
Khommadov and Ovezov were released on March 17 and taken back to their home village, but not before receiving a warning.
"They told us not to speak out against government policies, saying if we did not follow what they said they would 'smash us' and they wouldn't stop with this and continue dealing with our family members and children in the same way," he says.
"Before that, on February 18, the authorities came to our home and questioned us about all our family members, even about those who died some years ago. I kept silent about that. They summoned me to the police station but I didn't come. And then on February 22 they cut my phone line and continued doing so regularly. When [RFE/RL] tried to call me they cut the line as soon as you said 'hello.'"
Still No Contact
Khommadov said the situation with Ovezov, who suffers from kidney problems, is not good.
"Juma complains about pain in his kidneys," he says. "We are under constant surveillance. People are around my house and Juma's house, watching. He cannot leave. At night his son came to me and said his father was ill and asked me to come. Then Juma told me he was sick and he didn't know what to do. He said, 'if I go to the doctor [I'm afraid] he might give me the wrong injection and kill me.'"
Khommadov said the uncomfortable conditions in the cell contributed to Ovezov's current condition. RFE/RL has thus far been unable to contact Ovezov.
(RFE/RL's Turkmen Service contributed to this report.)
RFE/RL Journalist Grateful For Support
RFE/RL Journalist Grateful For Support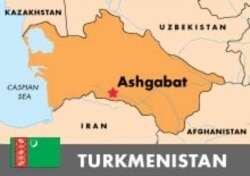 A statement from MERET KHOMMADOV:
Respected brothers and dear listeners,
I am grateful for the struggle you have made for our release. I am especially grateful to international NGOs, international human rights organizations, the Congress of the United States, the Embassy of the United States in Turkmenistan, the Organization for Security and Cooperation in Europe (OCSE), the management of RFE/RL, and my collogues working for the Turkmen Service of RFE/RL. I want to say thank you very much for all of your humanitarian support. May God bless you.
Regarding me, I don't think that I am a particularly strong man. I am a simple and ordinary man.
Commenting on the [recent] events, I don't blame anyone. I would say and think that such misunderstandings could happen in any country. And I also believe that bad and good things happen by God's will. I think a dispute between two Muslim should not last longer than it take a wet piece of cloth to get dry. In the words of our Turkmen elders, I hope these events produce results in the interests of both sides.
I have a request for the leadership of Turkmenistan: If I am allowed to work as a reporter, as a journalist, I promise to pay all of my taxes, and also I will try to give truthful information to my listeners based on democratic and objective principles of journalism.
Thank you,
Meret Khommadov
Turkmenistan
March 23, 2006
See also:
Turkmen Authorities Release RFE/RL Correspondents
Rights Group Criticizes Arrest Of RFE/RL Turkmen Journalists
Activists Decry Arrests Of RFE/RL Journalists


For regular news and analysis on media issues throughout RFE/RL's broadcast area by e-mail, subscribe to "RFE/RL Media Matters."