Turkmenistan Completes New Railway Link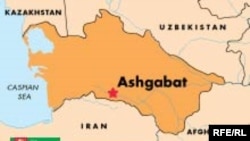 (RFE/RL) March 17, 2006 -- Turkmen President Saparmurat Niyazov today opened a new railway line connecting the capital, Ashgabat, with the northern city of Dashoguz.
The inauguration ceremony was held at a train station in Ichoguz, in the middle of the Kara-Kum desert.
The new 540-kilometer Trans-Kara-Kum line cuts about 700 kilometers off the previous route, which ran through the provinces of Mary and Lebap, and then along the border with Uzbekistan.
Niyazov said the new line took about six years to build, at a cost of some $2 billion.
(AP, BBC Monitoring)
RFE/RL Central Asia Report

SUBSCRIBE For regular news and analysis on all five Central Asian countries by e-mail,
subscribe to "RFE/RL Central Asia Report."