Judge Ansarullah Mawlavi Zada said no one has the right to exert pressure on the court, which he said is operating under the Afghan constitution and laws.
The case of Abdul Rahman, an Afghan who converted to Christianity, has sparked international debate.
Afghan clerics have described him as an "apostate," saying he deserves to die.
Australian Prime Minister John Howard today became the latest leader to criticize the process under way against Rahman, saying he "literally felt sick" that a person could be punished for his or her religious beliefs.
The Becket Fund for Religious Liberty -- a international, interfaith, public-interest law firm --today offered to provide free legal assistance to Rahman.
(with additional material from AP)
Panel On Religious Freedom
Panel On Religious Freedom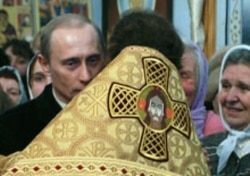 Russian President Vladimir Putin celebrating Orthodox Christmas (CTK, file photo)

RELIGION AND SOCIETY: On December 21, 2005, RFE/RL's Washington office hosted a panel discussion on issues related to religious freedom in the former Soviet Union. Panelists included CATHERINE COSMAN, a senior policy analyst for the U.S. Commission on International Religious Freedom; FELIX CORLEY, editor of the Forum 18 News Service; and JOHN KINAHAN, Forum 18 assistant editor.
Cosman argued in her presentation that the Russian Orthodox Church receives preferential treatment from the government. She also expressed concern about the estimated 50,000 skinheads active in Russia. Corley focused on Uzbekistan and Turkmenistan, arguing that many governments in the region "fear institutions they can't control." Kinahan's presentation concentrates on the Uzbek government's assertions that Islamist extremists were behind the May uprising in Andijon.
LISTEN
Listen to the complete panel discussion (about 90 minutes):
Real Audio
Windows Media
See also:
Central Asia: Region Returns To Muslim Roots
Central Asia: Regional Leaders Try to Control Islam
Unholy Alliance? Nationalism And The Russian Orthodox Church

THE COMPLETE STORY:
A thematic webpage devoted to issues of religious tolerance in RFE/RL's broadcast region and around the globe.