OSCE Chief Highlights Ethnic Tensions In Kyrgyzstan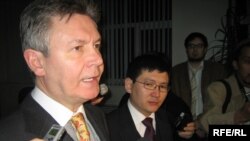 Belgian Foreign Minister Karel De Gucht pictured in Astana on the Kazakh leg of his tour of Central Asia as chairman of the OSCE (file photo) (RFE/RL) BISHKEK, March 28, 2006 (RFE/RL) -- Belgian Foreign Minister Karel De Gucht, the current chairman of the Organization for Security and Cooperation in Europe (OSCE), has called on Kyrgyzstan to do more to ease ethnic tensions in the country.
De Gucht said that, "although progress has been achieved in certain areas, many challenges remain, first of all the interethnic tensions in the north and in the south. They most probably necessitate a comprehensive action plan for national minorities' integration."
De Gucht made his comments on the Kyrgyz leg of a tour of Central Asia. The OSCE chairman met with Kyrgyz President Kurmanbek Bakiev, Foreign Minister Alikbek Jekshenkulov, and a number of other officials.
Earlier, in the Kazakh capital Astana, De Gucht said Kazakhstan has more chance than any of the other Central Asian states of assuming the OSCE presidency in 2009. However, he said that, for that to happen, key political reforms must be undertaken.
De Gucht is due to travel to Tajikistan on March 29 where he is expected to meet with President Imomali Rakhmonov during a two-day visit. From Tajikistan, he is due to travel to Afghanistan.

RFE/RL Central Asia Report

SUBSCRIBE For regular news and analysis on all five Central Asian countries by e-mail,
subscribe to "RFE/RL Central Asia Report."