Latest official reports said 330 villages were affected by the quake, some of them completely flattened.
Deputy Foreign Minister Mohammad-Baqir Zolqadr said relief operations have finished and no more bodies are believed to be under the debris.
The United Nations said it was sending a team of experts to assess Iran's needs following the earthquake. The United States offered humanitarian aid supplies.
Russia today scrapped plans to send rescuers and medical teams after Iran said they were not needed. But a Russian Emergency Situations Ministry spokesman said Iran welcomed an offer of aid.
(dpa, AP)
Iran's Drug Problem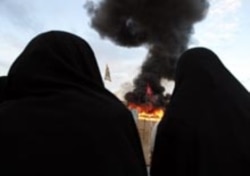 READ
DRUG USE ON THE RISE:
The Iranian approach to drug control is very relevant to the rest of the world, because Iran's neighbor, Afghanistan, is the world's leading producer of opium. Iran leads the international community in global opium seizure rates and it is second to Pakistan in opiate seizures, according to the UN Office on Drugs and Crime. Iran also leads the world in the prevalence of drug abuse (2.8 percent of the population aged 15 or older), according to the UNODC.
(more)
See also:
Iran: Country's Drug Problems Appear To Be Worsening
New Ways Considered For Tackling Growing Drug Use Among Young Iranians


SUBSCRIBE: For weekly news and analysis on Iran by e-mail, subscribe to "RFE/RL Iran Report."