Moscow Prosecutors Lack Evidence In Attack On Minister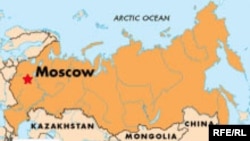 (RFE/RL) April 2, 2006 -- Russian prosecutors say they have no evidence to suggest an April 1 attack in Moscow against the culture minister of the Republic of Kabardino-Balkaria was racially motivated.
Zaur Tutov says he was beaten up by a group of skinheads yelling "Russia is for Russians." He was hospitalized with a broken cheekbone, concussion, and bruises.
But a spokesman for the Moscow prosecutor's office, Sergei Marchenko, said the attackers were drinking and using crude language. The spokesman said Tutov criticized them and a conflict ensued.
The attack comes amid an apparent rise in racially motivated violence in Moscow and other cities. Many attacks target darker-skinned immigrants from the Caucasus and Central Asia.
The authorities frequently treat such attacks as
random violence or hooliganism
.
(AP)