The armed men stopped the vehicle carrying the Turkish national and his three Afghan bodyguards on a highway in the southern Farah Province late on April 2. The four were ordered out of the vehicle before the gunmen disarmed the bodyguards and shot the Turkish engineer execution-style.
The attackers later poured gasoline on his corpse and burned it. The guards were released.
The attack is the latest in a string of killings of foreigners in southern Afghanistan. On March 28 in the same area, three Afghans along with two foreigners working for an American security firm were killed in a roadside bomb blast.
(AFP)
Suicide Attacks In Afghanistan
Suicide Attacks In Afghanistan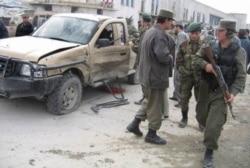 The results of a suicide-bomb attack in Kandahar Province on January 16 (epa)
Suicide bombers have struck more than two dozen times in Afghanistan since neo-Taliban and Al-Qaeda insurgents appear to have stepped up use of such attacks following the provincial and national elections of September 2005. While sporadic until recent months, suicide bombings have killed at least 90 people in Afghanistan since late 2001 -- including the attack in the days leading up to 9/11 that left legendary Afghan mujahedin commander Ahmad Shah Mas'ud dead. For an overview of suicide attacks in Afghanistan dating back to 2001, click here.