Fifteen Dead In Week Of Violence In Turkey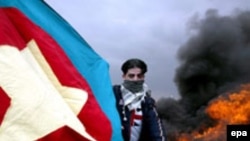 Turkish Kurd holds a Kurdistan Workers Party (PKK) flag at a demonstration in Istanbul on March 19 (file photo) (epa) April 3, 2006 -- Turkish officials say 15 people have been killed in a week of violence between Kurdish protestors and police.
In the latest incident, three people died after a Molotov cocktail set ablaze a bus in Istanbul on April 2.
The rioting began in the mainly Kurdish region of southeastern Turkey after Turkish troops killed 14 pro-autonomy Kurdish guerrillas.
Dozens more people have been injured, mostly members of the security forces.
Meanwhile, an armed rebel group known as the Kurdistan Freedom Falcons threatened in a statement issued on April 3 to strike at tourist targets across Turkey.
(AFP, AP)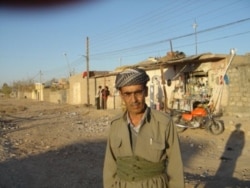 KURDISH AWAKENING: The ethnic Kurdish region in the northern part of Iraq has struggled in recent years to reestablish its cultural and political identity after decades of oppression under the regime of deposed Iraqi President Saddam Hussein. In December, RFE/RL correspondent Charles Recknagel traveled to this area and filed several reports:
Relative Peace Underscores Issue Of Kurdish Region's Future
Kurdish Culture Begins To Flourish In Kurdistan Region
Kurds Ponder How To Strengthen Autonomy After Elections