Kyrgyz Parliament Rejects 'Revolution Day' Proposal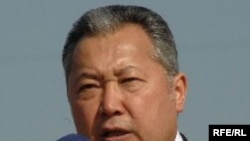 President Kurmanbek Bakiev addresses a crowd in central Bishkek on the first anniversary of the ouster (RFE/RL) April 4, 2006 -- Lawmakers in Kyrgyzstan have rejected a proposal to make March 24 People's Revolution Day.
In today's vote, they said an "objective assessment" of that popular uprising is needed before declaring the day a national holiday.
Nearly all of those in the national parliament were elected in the contested balloting that helped spark the 2005 ouster of President Askar Akaev's administration.
The bill was proposed after President Kurmanbek Bakiev decreed March 24 People's Revolution Day and a holiday.

(AKIpress, Interfax)