European Court Fines Moldova For Torture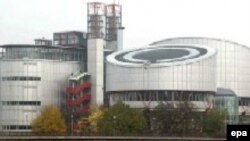 The European Court of Human Rights in Strasbourg (file photo) (epa) April 4, 2006 -- The European Court of Human Rights has condemned Moldova for torture and ordered it to pay $25,000 dollars in damages to a youth who said police beat him up.
Mihai Corsacov said he was kicked, punched, and beaten with batons after he was arrested for theft in 1998. He said officers put a gun to his head and threatened to shoot him if he did not confess.
The government denied the accusations.
The Strasbourg-based court said Moldova failed to carry out an effective investigation.
(AFP)