Iraq Marks Third Anniversary Of Fall Of Baghdad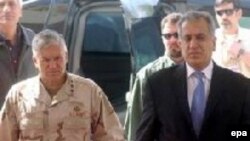 US Ambassador to Iraq Zalmay Khalilzad (right) with General George Casey (file photo) (epa) April 9, 2006 – The U.S. ambassador to Iraq and the top U.S. military commander in Iraq said today in a joint statement to mark the third anniversary of the fall of Baghdad to U.S.-led forces that "despite much progress, much work remains."
The anniversary is now an official holiday, Freedom Day.
Ambassador Zalmay Khalilzad and General George Casey said security forces must quell sectarian violence, population centers must be secure to allow Iraq's new institutions to take root and businesses to flourish, and the people must be able to trust their leadership.
The insurgency, rising sectarian violence, electricity shortages, and the current political vacuum mean that, for most Iraqis, relief at the removal of Saddam Hussein in 2006 is tempered by the subsequent harsh realities of the new Iraq.
(compiled from agency reports)


SUBSCRIBE For weekly news and analysis on Iraq by e-mail,
subscribe to "RFE/RL Iraq Report."