Georgia: With Russia Ties Souring, Saakashvili Cozies Up To China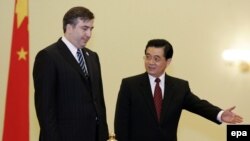 Chinese President Hu Jintao (right) greets President Saakashvili in Beijing today (epa) Georgian President Mikheil Saakashvili is in China on a six-day state visit focusing on bilateral ties. The tour follows closely on visits by leaders of other former Soviet republics, such as Turkmenistan's Saparmurat Niyazov and Alyaksandr Lukashenka of Belarus. Of the three, Saakashvili has the rockiest relationship with Moscow, which is looking to reassert its influence in the post-Soviet neighborhood. What does Saakashvili hope to gain from looking east?
PRAGUE, April 11, 2006 (RFE/RL) -- With China's star rising, Beijing has become an obligatory destination for national leaders looking for strong bilateral partners.
For the countries of the former USSR, ties with China can also help counterbalance Russian influence.
Of all the post-Soviet states, it is perhaps Georgia that is experiencing the greatest difficulty with Russia. Most recently, Moscow banned Georgian wines from the Russian market -- a move that could cost Georgia nearly $60 million.
Aleksandre Rondeli, the president of the Georgian Foundation for Strategic and International Studies in Tbilisi, says Saakashvili's state visit to China comes at an opportune time.
Saakakshvili may hope that further funding via deals with China may help his country break free of energy dependence on Russia.
"This is happening at a time when our relationship with Russia is clearly very difficult," Rondeli said. "They've blocked our wine shipments and taken our wine off the shelves in Russia. So we're in a very critical situation, and it seems as though President Saakashvili is looking to eventually export a certain percentage of the Georgian wines that went to the Russian market to China instead."
But Saakashvili's visit is about far more than wine. The Georgian president will also be looking to generate Chinese investment as Georgia privatizes its state industries.
China has already funded the construction of hydroelectric plants in underdeveloped Georgian regions like the Pankisi Gorge.
Saakakshvili wants Georgia to be energy self-sufficient by 2009 -- he may hope that further funding via deals with China may help his country break free of energy dependence on Russia
Unlike the Central Asian republics, which can offer energy-hungry Beijing a share of oil and natural gas, Georgia has fewer treasures with which to lure investment.
Still, Rondeli says, "every little post-Soviet country" can find something for themselves in China.
"China is a big country, and the Georgian president went to this big country with its enormous market and vast possibilities -- including, from the point of view of a little country like Georgia, fairly big opportunities to secure investment in areas like hydroelectric facilities, hydropower," Rondeli said. "There will be some other kinds of discussions as well, focusing on economic and trade ties."
This is the first official visit to China for Saakashvili, who arrived on April 10. During his stay, he is due to meet with Chinese President Hu Jintao and Prime Minister Wen Jiabao.
In addition to trips to the Great Wall of China and a cruise down Shanghai's Huangpu River, Saakashvili will meet with machinery and technology exporters and will participate in a Georgian-Chinese business forum.

James Nixey, who runs the Russia and Eurasia program at the Chatham House independent research center in London, says one of the key aspects of Saakashvili's visit is the timing.

"One of the really significant things about Saakashvili's trip is that it comes hard on the heels of President Putin's recent visit to China," Nixey said. "And whereas China-Russia relations are extraordinarily important for both countries, Georgia's trip -- right on the heels of it, bearing in mind that Georgian-Russian relations are just so poor right now -- is of some significance."
Russia has been aggravated by what it sees as Georgia's pro-Western tendencies, including its aim to join the NATO military alliance.
Vladimir Putin traveled to China in March for a highly watched visit that focused on energy cooperation and what appeared to observers to be a growing Sino-Russian strategic partnership.

Georgia, by comparison, is an extremely minor player. But Nixey says the timing of Saakashvili's visit -- while likely not deliberate -- is sure to provoke some irritation in Moscow.

"The trip is really rather more antagonistic toward Russia, rather than an intention to create anything new," Nixey said. "Yes, they can to a certain extent sell the Chinese some wine. But it certainly won't accomplish much [beyond that] because Georgia is too small a country to make a significant impact on China's external relations. But it will make the Russians' eyebrows raise and they won't be too happy about it."

Russia has been aggravated by what it sees as Georgia's pro-Western tendencies, including its aim to join the NATO military alliance. Georgia, meanwhile, accuses Russia of supporting separatist regimes in South Ossetia and Abkhazia, which Saakashvili is eager to bring back under Tbilisi's control.

Adding fuel to the debate, top officials of Russia's State Duma are due to consider a draft document condemning Saakashvili's policies, particularly on the two breakaway regions.