Kyrgyz NGO Leader Stable In Hospital After Attack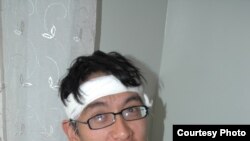 Baisalov in hospital on April 13 (Courtesy Photo) BISHKEK, April 13, 2006 (RFE/RL) -- Edil Baisalov, the leader of the nongovernmental organization coalition For Democracy and Civil Society, is in stable condition in hospital after being attacked on April 12.
Police quoted witnesses as saying a lone assailant attacked Baisalov from behind as he was leaving his office in Bishkek. Doctors say he suffered head injuries.
Baisalov spoke to RFE/RL's Kyrgyz Service today from the hospital about what happened: "I was coming out of the [Coalition for Democracy and Civil Society] office and crossing a street toward our car on the other side of the street. Suddenly, I felt somebody hit me in the back. I lost consciousness for a few seconds, but I did not fall down. Then I saw somebody running away. Then I started to bleed heavily. Then [some] Russians came and started to help me. I said to them, 'Some people hit me.' Then they said, 'No, they didn't hit you, they shot you with a kind of popgun [khlopushka]."
Kyrgyz Prime Minister Feliks Kulov, who visited Baisalov in hospital on April 12, said the attack had obvious "political overtones."
Baisalov had been organizing demonstrations against permitting figures associated with the underworld from serving in parliament or in government. He says the attack will not deter his group from doing its work.
Rysbek Akmatbaev, a reputed criminal boss currently under investigation for murder, won a recent by-election to parliament.
(with AKIpress)
RFE/RL Central Asia Report

SUBSCRIBE For regular news and analysis on all five Central Asian countries by e-mail,
subscribe to "RFE/RL Central Asia Report."