Tajik Schools To Require History Of Islam Classes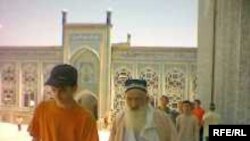 A mosque in Dushanbe (file photo) (RFE/RL) April 13, 2006 -- Tajik Education Minister Abdujabor Rakhmonov says the history of Islam will be introduced as a compulsory subject in the country's secondary schools.
He said courses would focus on the "essence of Islam, its moral and ethical norms," and noted that "there are various interpretations of Islam, including of an extremist nature."
He did not say when the requirement would be introduced.
(AP)