Lieutenant Ramil Safarov had confessed to killing Gurgen Markarian with an ax during a NATO seminar in the Hungarian capital.
Safarov reportedly said he killed his Armenian classmate in the heat of a dispute over Nagorno-Karabakh.
But the court ruled that the murder was premeditated. It also found Safarov guilty of planning to kill another Armenian soldier, a plan he did not act on.
Azerbaijan's Turan news agency quotes Safarov's lawyers as saying they will appeal the verdict.
(Turan, APA, day.az, Interfax-Azerbaijan, AFP)

The Nagorno-Karabakh Conflict
The Nagorno-Karabakh Conflict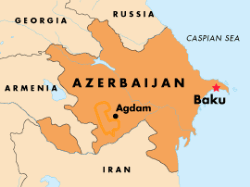 Click on the image to view an enlarged map of the Nagorno-Karabakh conflict zone

In February 1988, the local assembly in Stepanakert, the local capital of the Azerbaijani region of NAGORNO-KARABAKH, passed a resolution calling for unification of the predominantly ethnic-Armenian region with Armenia. There were reports of violence against local Azeris, followed by attacks against Armenians in the Azerbaijani city of Sumgait. In 1991-92, Azerbaijani forces launched an offensive against separatist forces in Nagorno-Karabakh, but the Armenians counterattacked and by 1993-94 had seized almost all of the region, as well as vast areas around it. About 600,000 Azeris were displaced and as many as 25,000 people were killed before a Russian-brokered cease-fire was imposed in May 1994.
CHRONOLOGY: For an annotated timeline of the fighting around Nagorno-Karabakh in 1988-94 and the long search for a permanent settlement to the conflict, click here.

Click on the icon to view images of the Nagorno-Karabakh conflict (Flash required)
To view an archive of all of RFE/RL's coverage of Nagorno-Karabakh,
click here.