Iran's Ahmadinejad Predicts 'Decay' Of Israel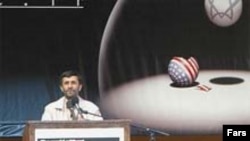 Iranian President Mahmud Ahmadinejad at an anti-Zionism conference in October 2005 (file photo) (Fars) April 14, 2006 -- Iranian President Mahmud Ahmadinejad today reiterated his skepticism about the Holocaust and said Israel poses a threat to the Islamic world.
Speaking at an international conference in support of the Palestinian people, he compared Israel to a withered tree that will be blown down in a coming storm.
Ahmadinejad previously sparked an international uproar when he doubted the existence of the Holocaust and called for Israel to be "wiped off the map."
One of the main agendas of the three-day conference, which started in Tehran on April 14, is to raise funds for the Hamas-led Palestinian government, which has been losing financial aid from abroad.
Representatives of Palestinian militant groups are also attending the conference.
(IRNA, AFP, Reuters, dpa)


SUBSCRIBE For regular news and analysis on Iran by e-mail,
subscribe to "RFE/RL Iran Report."