Russia Says It Still Opposes Sanctions Against Iran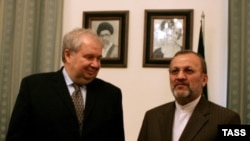 Russian Deputy Foreign Minister Sergei Kislyak (left), who will represent Russia at the April 18 meeting in Moscow of the UN Security Council's five permanent members. He is pictured here with Iranian Foreign Minister Manuchehr Mottaki (file photo) (ITAR-TASS) April 18, 2006 -- Russia reiterated today that it remains opposed to sanctions against Iran over its controversial nuclear program.
Foreign Ministry spokesman Mikhail Kamynin said Russia is convinced that "neither sanctions nor the use of force" will lead to a solution of the Iranian nuclear crisis.
High-ranking diplomats from Russia, the United States, China, Britain, and France -- the five permanent UN Security Council members -- plus Germany are meeting later on April 18 in Moscow to try to work out the next steps toward resolving the crisis.
The Security Council has asked Iran to stop uranium enrichment to allay international fears it is seeking to produce nuclear weapons. Iran has so far refused to do so, insisting its program is for peaceful purposes.
The International Atomic Energy Agency is to report to the Security Council on Iran's compliance with international demands by the end of this month.
(ITAR-TASS, AP)


THE COMPLETE PICTURE: RFE/RL's complete coverage of controversy surrounding Iran's nuclear program.
CHRONOLOGY
An
annotated timeline
of Iran's nuclear program.