OPEC Head Blames Tough Talk On Iran For Record Oil Price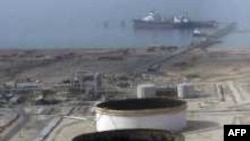 Iran's oil refinery on Lavan Island (file photo) (AFP) April 18, 2006 -- The president of the oil exporting cartel OPEC said today that oil would retreat from its record high price if Iran's opponents stop talking up the threat of action against its nuclear program.
Edmund Daukoru, who is also Nigeria's oil minister, said that the threats are unsettling the market.
He added that increased tension between Israel and the Palestinians is not helping matters.
World oil prices hit a new high today. In Asian trading, U.S. oil futures hit $70.88 a barrel, up from an April 18 high of $70.78. Oil prices have soared more than 16 percent over the past four weeks.
(Reuters)