Afghanistan: Poppy Eradication Drive Launched In Herat Province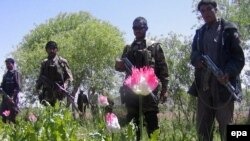 Afghan police in a poppy field on 17 April (epa) Afghan authorities have launched a poppy-eradication campaign in the western province of Herat as part of the government's attempts to wipe out opium cultivation. But the project has angered poor Afghan farmers who depend on the illegal income that poppy harvests generate. Afghan troops with assault rifles and rocket-propelled grenade launchers have been deployed to protect police as they slash down the blooming flowers.
PRAGUE, April 18, 2006 (RFE/RL) -- Afghan police chop down poppy plants in Herat Province as the pink flowers have reached the point where they could be harvested for opium.
Heroin and morphine are derived from the plants. But the income generated by such crops is illegal. And the funds empower warlords who use the money to pay salaries to their illegal militias.
U.S.- led efforts to eradicate opium cultivation in Afghanistan have caused raw opium prices to nearly double -- from about $100 per kilogram last October to a current black market price of about $180 per kilogram.
The Afghan government says Taliban fighters also are using money from illegal poppy farming to fund their insurgency.
Indeed, the illegal narcotics trade continues to dominate Afghanistan's economy. According to the UN's Office on Drugs and Crime, illegal drugs account for an estimated 60 percent of Afghanistan's gross domestic product and about 87 percent of the world's opium supply. More than 350,000 Afghan families -- roughly 10 percent of the population -- are thought to be dependent on opium production for their livelihood.
'We Are Poor People'
Among them is Abdul Ghafar, a poppy farmer in the province's Shendand district, about 130 kilometers south of the city of Herat. Tears of rage swelled from his eyes on April 16 as he shouted at the Afghan police who were chopping down his entire crop.
"This field feeds 20 members of my family," he said. "They all rely on this crop. Why are you destroying it? We are poor people. What should I do after this? I want the government to compensate this. You are Muslims. Why are you doing this? For God's sake, please don't destroy my field. I am happy to be killed. But don't destroy my field."
In 2002, the Afghan government offered poppy farmers up to $500 per acre of destroyed poppies. According to UN estimates, that same acre can earn a poppy farmer more than $6,000. Another offer included seeds for alternate crops. But many farmers have complained to RFE/RL that they have never received any compensation.
Jamal Hussain, another poppy farmer in Herat Province, says the Afghan government should keep its promise and compensate those whose crops are destroyed as part of the antinarcotics campaign.
"The government hasn't given us anything," he said. "Why do they have to destroy this? They should go somewhere else. We are poor people. This is the only income for my family."
But Herat Province Governor Sayed Hussain Anwari says the eradication campaign is necessary to break the stranglehold that drug lords have on the Afghan economy.
"We are here to destroy the poppy fields," Anwari said. "This is the policy of our government -- to eradicate all the field-planted poppies. We will succeed with the help of God."
Prices On The Rise
Falling prices on the black market for raw opium last year due to a large harvest has helped the international community to discourage Afghan farmers from planting this year.
But United Nations Secretary-General Kofi Annan says that U.S.- led efforts to eradicate opium cultivation in Afghanistan have caused raw opium prices to nearly double -- from about $100 per kilogram last October to a current black market price of about $180 per kilogram. That price level has encouraged some Afghan farmers to continuing planting opium poppies.
A recent U.S. State Department report describes Afghan heroin production as an "enormous threat to world stability."
Afghan President Hamid Karzai has vowed to destroy the country's illegal drug trade to prevent Afghanistan from becoming a narco-state.
The United States and Britain are leading the effort. Washington reportedly has earmarked about $700 million for the campaign. Britain already has contributed about $100 million and is seeking another $300 million from other countries in the U.S.-led antiterrorism coalition.
(RFE/RL's Radio Free Afghanistan contributed to this report.)
RFE/RL Afghanistan Report

SUBSCRIBE For regular news and analysis on Afghanistan by e-mail,
subscribe to "RFE/RL Afghanistan Report."