The G8 summit will be hosted by Russia in St Petersburg in July.
Burns said it would be the first time that the G8 would discuss the problems in these former Soviet territories.
He said most G8 members agree that Belarus' elections, which returned authoritarian President Alyaksandr Lukashenka to power, were "antidemocratic."
He said they also agree that the G8 should help the governments of Georgia and Moldova resolve conflicts with their separatist provinces.
Russia and the United States are already working together to find a resolution to the conflict in Nagorno-Karabakh, an ethnic Armenian-inhabited enclave in Azerbaijan.
(Reuters)
Minsk, March 25
THE AUTHORITIES GET TOUGH: RFE/RL's Belarus Service filed these images from the police action against the March 25 demonstration in Minsk. Photographs by Maks Kapran.
LISTEN
Listen to the sounds of the demonstration:
Real Audio Windows Media
Real Audio Windows Media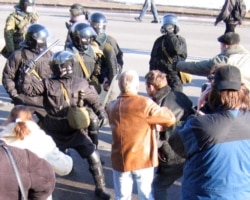 (RFE/RL)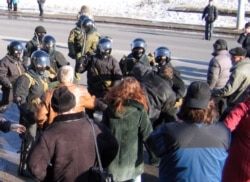 (RFE/RL)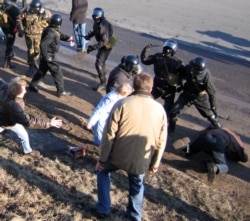 (RFE/RL)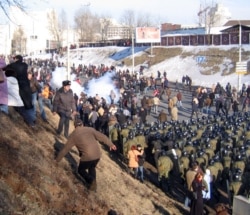 (RFE/RL)

THE COMPLETE PICTURE:
Click on the image to view a dedicated page with news, analysis, and background information about the Belarusian presidential ballot.


COVERAGE IN BELARUSIAN: Click on the image to view RFE/RL's coverage of the election campaign in Belarusian and to listen to RFE/RL's Belarusian Service.