Iran Still Talking To Russia About Uranium Enrichment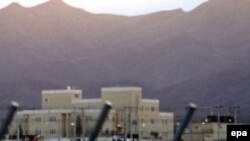 Iran's uranium-enrichment complex of Natanz in central Iran (file photo) (epa) April 22, 2006 -- Iran's ambassador to the UN nuclear watchdog says Tehran is still talking with Russia about a Russian proposal to enrich uranium jointly.
Ali-Asghar Soltanieh, the envoy to the International Atomic Energy Agency (IAEA), today was quoted as saying Iran and Russia had a basic agreement on the proposal but that details were still being worked out. He was in Moscow for talks with Russian officials.
Soltanieh did not say whether the joint venture was an alternative to enriching uranium inside Iran.
The UN Security Council demands that Iran halt all uranium enrichment, which Iranian officials say they will not do. Uranium enrichment is a process to produce nuclear fuel and a step in the process of producing atomic weapons.
Iran denies accusations by the United States and some European nations it is seeking nuclear arms. The Russian government has repeatedly said that, for the time being, it opposes sanctions on Iran.
Soltanieh also said Iran would issue tenders next month for two new nuclear power plants, in addition to the one being built with Russian help at Bushehr.
(Reuters, dpa)