U.S. Undersecretary of State Nicholas Burns says Moscow should cancel the planned sale to Iran of TOR-M1 surface-to-air missiles. Moscow and Tehran both say the missiles are meant for defensive purposes.
In Minsk, Belarusian Defense Minister Leanid Maltseu announced that Russia today began delivering advanced S-300SP antiaircraft missiles to Belarus. He also denied a report in a prominent London-based defense journal that the missiles are meant to be transferred on to Iran.
"Jane's Intelligence Digest" reported that Belarus agreed in January to transfer the Russian-made S-300SP missiles to Iran in order to help Tehran bolster its defenses against any possible U.S. or Israeli air strikes on its nuclear facilities.
Iranian Commerce Minister Masud Mir-Kazemi, who headed a recent trade delegation to Minsk, denies that Iran wants to acquire S-300 anti-aircraft missiles.
Russian Resistance
In response to Burns' comments, Russia today reiterated its resistance to U.S. calls to isolate Iran.
Nikolai Spassky, deputy head of the Kremlin Security Council, rejected talk by the United States and Britain asking the UN Security Council to impose sanctions.
Washington has also called on Moscow to end cooperation in constructing Iran's Bushehr nuclear power plant.
The United States and Britain say if Iran does not comply with an April 28 Security Council deadline to stop uranium enrichment, they will seek to make the demand compulsory.
(AP, Reuters, AFP)

IAEA Final Resolution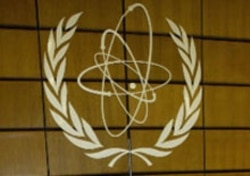 READ
On 4 February, the Board of Governors of the International Atomic Energy Agency approved in a 27-3 vote a resolution to report the matter of Iran's nuclear program to the United Nations Security Council. The key section of the resolution is Section 1, which states that the Board of Governors:
Underlines that outstanding questions can best be resolved and confidence built in the exclusively peaceful nature of Iran's program by Iran responding positively to the calls for confidence-building measures which the Board has made on Iran, and in this context deems it necessary for Iran to:
reestablish full and sustained suspension of all enrichment-related and processing activities, including research and development, to be verified by the Agency;
reconsider the construction of a research reactor moderated by heavy water;
ratify promptly and implement in full Additional Protocol;
pending ratification, continue to act in accordance with the provisions of the Additional Protocol with Iran signed on 18 December 2003;
implement the transparency measures, as requested by the Director General, which extend beyond the former requirements of the Safeguards Agreement and Additional Protocol, and include such access to individuals, documentation relating to procurement, dual use equipment, certain military-owned workshops and research and development as the Agency may request in support of its ongoing investigations.
COMPLETE TEXT: To read the final resolution, with late-hour changes highlighted, click here.

THE COMPLETE PICTURE: RFE/RL's complete coverage of controversy surrounding Iran's nuclear program.