At Least Six Dead In Multiple Baghdad Car Bombs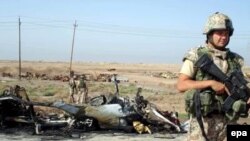 A British soldier secures the site of a suicide car bomb in Al-Basrah on April 20 (file photo) (epa) April 24, 2006 -- Iraqi police say four car bombs exploded in Baghdad today, killing at least six people and wounding about 50 others.
At least three people were killed and 25 others wounded when the first car bomb exploded in the center of Baghdad, near a complex of government buildings.
Two car bombs later exploded near Mustansiriyah University in eastern Baghdad, killing three people and wounding at least 15 others.
The Reuters news agency quotes police as saying a fourth blast wounded at least eight.
Yesterday, more than 20 Iraqis were reported killed in a series of rocket attacks, bombings, and shootings across Iraq. Three U.S. soldiers were killed in a roadside bomb explosion.
(AP, Reuters)