Russian Security Forces Thwart Terrorist Attacks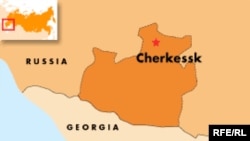 (RFE/RL) April 27, 2006 -- Russia's Federal Security Service (FSB) says it has thwarted a number of major terrorist attacks planned to coincide with celebrations to mark the victory over Nazi Germany.
The FSB said an unspecified number of alleged militants involved in preparing the attacks were killed during a security operation on April 27 in the southern republic of Karachayevo-Cherkessia.
Two local Interior Ministry troops were injured.
The FSB said it found explosives apparently intended for use in car bomb attacks on May 9, the date of Russia's traditional Victory Day celebrations.
(ITAR-TASS, Interfax)