Iraq accounted for 24 of the deaths. That made Iraq the most dangerous place to work, followed by the Philippines, where seven journalists were killed.
Latin America is also a "high-risk zone" -- seven journalists and a media aide died there last year.
RSF said in its annual report, issued ahead of World Press Freedom Day tomorrow, that an estimated 1,300 journalists were attacked or threatened around the world.
Conditions also deteriorated in the states of the former Soviet Union, in particular in Azerbaijan, Belarus, Russia, and Uzbekistan.
Iran remained the biggest prison for reporters in the Mideast region, RSF said.
(AFP)
World Press Freedom Day
NOT REALLY SO FUNNY:
The Paris-based World Association of Newspapers asked French cartoonist Michel Cambon to produce a series of cartoons on the theme of jailed journalists to mark World Press Freedom Day (May 3). Below, RFE/RL reproduces several of Cambon's cartoons.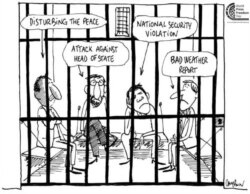 (WAN/Cambon)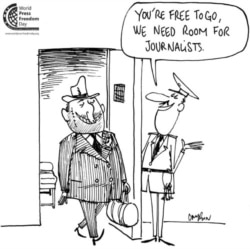 (WAN/Cambon)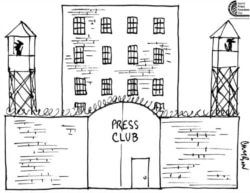 (WAN/Cambon)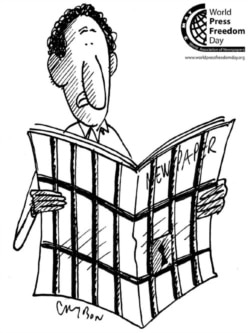 (WAN/Cambon)

RFE/RL's Press Freedom Day stories:
Iraq: Covering The Most Dangerous Beat On Earth
Afghanistan: Women In Journalism Battle Restrictions, Threats
Iran: State Maintains Tight Control Over Information
CIS: Press Freedom In Former Soviet Union Under Assault
Central Asia: Bureaucratic Obstacles Hinder Journalists
Central Asia: Governments Wary Of Independent Media
Central Asia: Journalists Still Face Harassment, Threats

ARCHIVE
To view an archive of RFE/RL's coverage of media-related stories, click here.
SUBSCRIBE
For regular news and analysis on media issues throughout RFE/RL's broadcast area by e-mail,
subscribe to "RFE/RL Media Matters."