Saakashvili Warns Of 'Threat' To Post-Soviet Democracy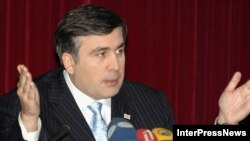 Georgian President Saakashvili (file photo) (InterPressNews) May 4, 2006 -- Georgian President Mikheil Saakashvili said today democratic movements in former Soviet republics are under threat.
He told a meeting of leaders from the Baltic and Black Sea regions that "the changes that we once thought were universal and irreversible in Tbilisi and Kyiv, here in the Baltics, in other places, like also in Russia, are now confronted by very serious forces intent on promoting very different outcomes."
The Georgian president said these forces are "increasingly well organized, well financed, promoted and tolerated."
He added that the threat is being compounded by "political forces in Moscow" seeking to undermine democratic reforms in Georgia and Ukraine.
He said Georgia would continue along the path it has chosen "regardless of all obstacles."
(BNS, Novosti Gruziya, AP)


SUBSCRIBE For weekly news and in-depth analysis on Armenia, Azerbaijan, Georgia, and Russia's North Caucasus by e-mail,
subscribe to "RFE/RL Caucasus Report."