U.S. Moves To Expand Ties To Tajikistan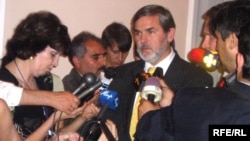 Boucher speaking to reporters in Dushanbe today (RFE/RL) May 8, 2006 (RFE/RL) -- U.S. Assistant Secretary of State Richard Boucher, during a visit to Dushanbe today, said Washington is interested in expanding its security and economic cooperation with Tajikistan.
Boucher told a news conference he also discussed regional cooperation and democratic development, during his talks with Tajikistan's President Imomali Rakhmonov, RFE/RL's Tajik Service reports.
Boucher described bilateral ties as good. But he hinted that Washington would like to see progress on the democracy front in Tajikistan, especially ahead of presidential elections in November.
"Some of these [difficulties in Tajikistan's political system] are issues that do need to be addressed during the process of improving a democracy," Boucher said. "Things like having access to the media so that the people of Tajikistan can hear all the different views of different parties, or how to ensure that the election commissions can make it fair at all levels of elections."
Boucher said the United States wants to work closely with Tajikistan and Afghanistan to help stem the flow of narcotics being smuggled through the region.
(with additional material from AP)
RFE/RL Central Asia Report

SUBSCRIBE For regular news and analysis on all five Central Asian countries by e-mail,
subscribe to "RFE/RL Central Asia Report."